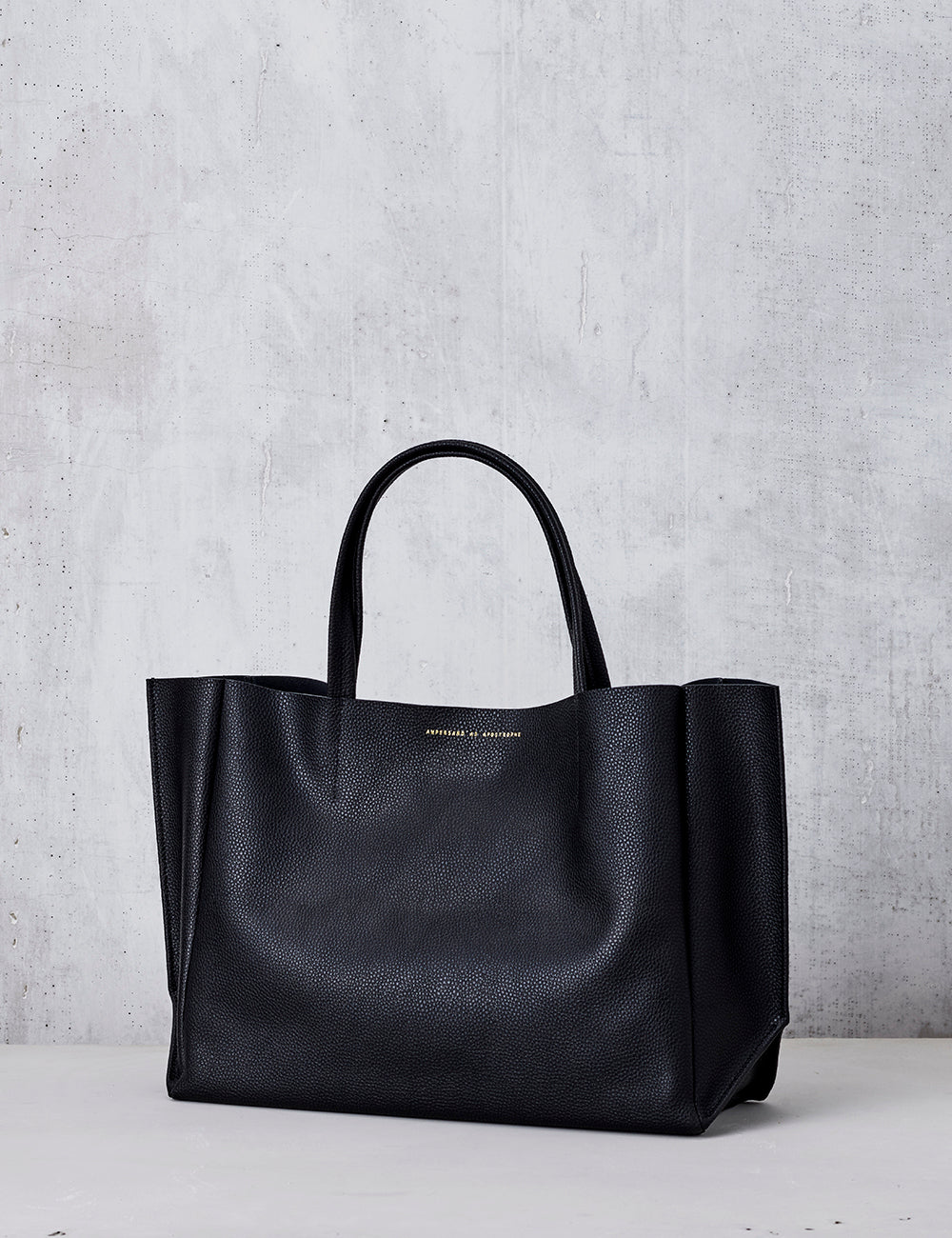 Sideways Tote / Black Lux
ABOUT:
SUBTLE. CLASSIC. WITH A TOUCH OF EDGE. THIS TOTE FITS ALL YOUR 9 TO 5 NEEDS + YOUR OVERTIME ACTIVITIES.  THE DETACHABLE ZIP-POUCH INSIDE DOUBLES AS A CLUTCH OR OVERSIZED WALLET FOR YOUR NIGHT OUT ON THE TOWN. THIS BAG IS LITERALLY THE TRANSFORMER, WORK BAG, BEACH BAG, BABY BAG – ALL WHILE KEEPING YOUR STYLISH CLEAN AESTHETIC. ARCHITECTURALLY INSPIRED DESIGN. CONCEPTUALLY BORN FROM THE OLDEST BAG TO EXIST - THE PAPER GROCERY BAG, THIS TOTE HAS BEEN REFINED AND RE-DESIGNED INTO THE PERFECT CARRY-ALL TO QUITE LITERALLY CARRY 'YOUR ALL', ALL WHILE STAYING TRUE TO ITS ORIGINAL FORM.

WAYS TO WEAR:
SHOULDER-CARRY TOTE.
FEATURES:
-*NEW* MAGNETIC CLOSURE AT MAIN OPENING
-INTERIOR ZIPPERED POCKET, SNAPS OUT AND DOUBLES AS CLUTCH
-TWIN LEATHER SHOULDER CARRY HANDLES
-GOLD METAL ZIPPER
-SIGNATURE BLACK FOIL-STAMPED AMPERSAND AS APOSTROPHE LOGO
-DUSTBAG
LEATHER / MATERIALS:
SOFT TO THE TOUCH, SMALL PEBBLE TEXTURE, 100% GENUINE LEATHER WITH FINISHED NATURAL SUEDE INTERIOR.  Both the exterior and interior are finished with a protectant. WE HAVE CUSTOM DESIGNED THE SIGNATURE "SOFT" LEATHER TO BE LIGHTWEIGHT YET STURDY TO RETAIN ITS SHAPE. ALL OF OUR LEATHERS ARE ETHICALLY SOURCED FROM SUSTAINABLE LEATHER TANNERIES.
DIMENSIONS:
-21 X 11.5 X 6 IN (53 X 29 X 15 CM)
-LEATHER HANDLES WITH 7.5 IN (19 CM) DROP
-7 X 10 IN (18 X 25 CM) SNAP-OUT CLUTCH INCLUDED