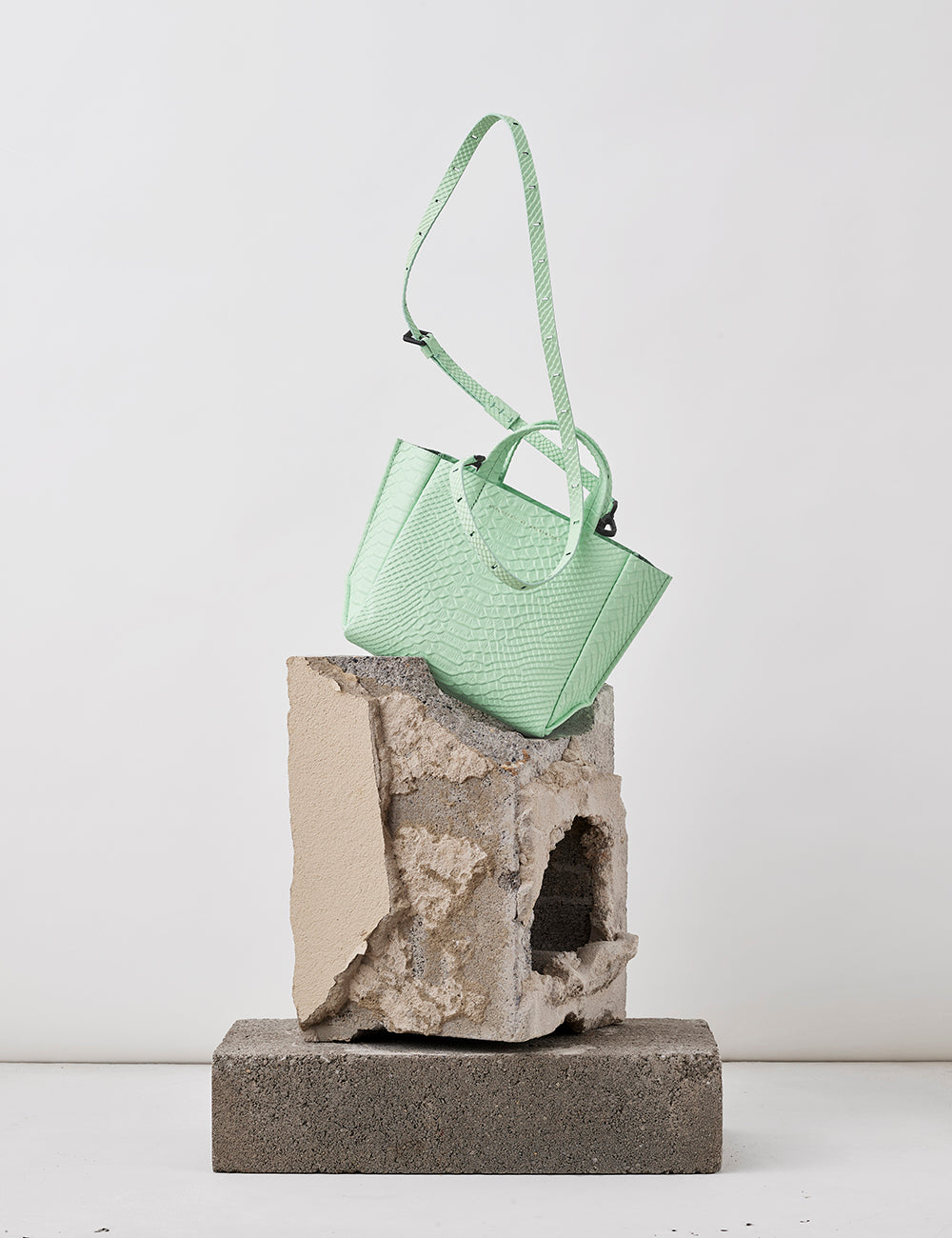 Micro-Tote / Mint Python
ABOUT:
THIS BRAND NEW STYLE IS THE (MINI) KEY TO EVERY WOMAN'S HEART. HANDS-FREE, SOPHISTICATED, FUN WITH A LITTLE EDGE; YOUR ONLY WORRY IS CHOOSING A COLOR (OR 2) WHICH BY THE WAY IS NOT AN EASY TASK – WE FEEL YOU! IT'S THE POP OF COLOR TO JUMP START YOUR MOOD AND YOUR WARDROBE.  don't BE SURPRISED WHEN YOU CAN FIT YOUR KEYS, WALLET, SUNGLASSES ++ IN THIS LITTLE GEM. THE HIDDEN ZIPPER CLOSURE KEEPS YOU CONFIDENT YOUR GOODS ARE SAFE INSIDE WHILE YOU'RE OUT AND ABOUT AROUND THE CITY OR PICKING THE KIDS UP FROM SCHOOL. THE MICRO-TOTE IS THE MINI VERSION OF OUR SIGNATURE HALF AND SIDEWAYS TOTES. 
WAYS TO WEAR:
Crossbody, ON SHOULDER, TOP CARRY.
FEATURES:
-ZIPPER TOP closure at MAIN OPENING
-INTERIOR METAL RINGS FOR NEW STRAP separate ATTACHMENTS
-DETACHABLE AND ADJUSTABLE LONG LEATHER STRAP
-TWIN TOP-CARRY LEATHER HANDLES
-ALL SOLID METAL HARDWARE
-GOLD FOIL-STAMPED LOGO
-DUSTBAG
LEATHER / MATERIALS:
SOFT TO THE TOUCH, OUR CUSTOM MADE NEW PAINTED PYTHON TEXTURED LEATHER IS 100% GENUINE LEATHER (NOT REAL PYTHON!) WITH FINISHED NATURAL SUEDE INTERIOR.  WE HAVE CUSTOM DESIGNED THIS LEATHER TO BE LIGHTWEIGHT YET STURDY TO RETAIN IT'S SHAPE TO CARRY YOUR ALL.
DIMENSIONS:
-10 x 6.2 X 3 INCHES (10 IN WIDTH AT TOP, 6.8 IN WIDTH AT BOTTOM)
-twin top Leather HANDLES: 2.5 INCH DROP
-Detachable + ADJUSTABLE LONG LEATHER STRAP: 6 TO 25.5 INCH DROP