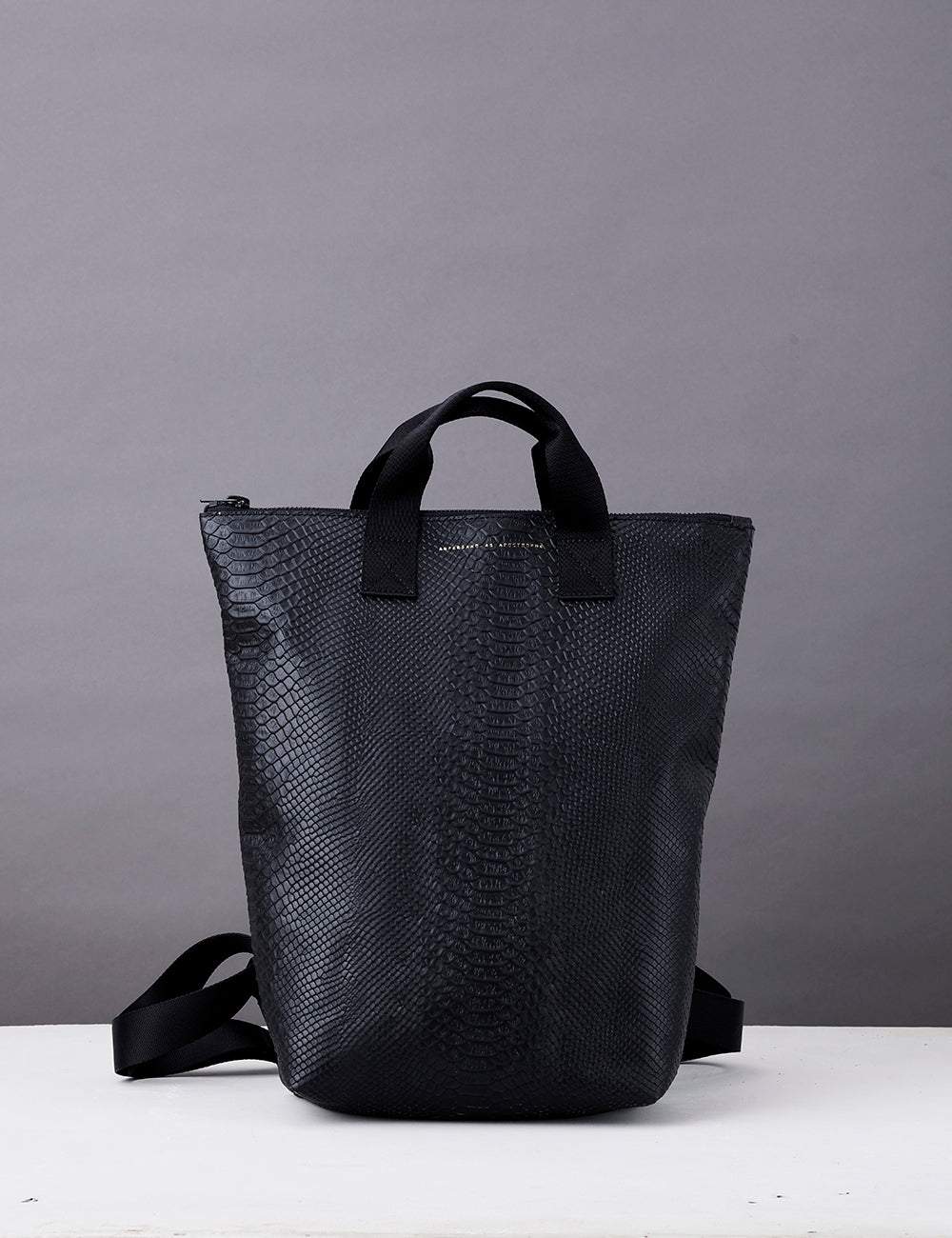 Backpack-Tote / Black Python
ABOUT:
OUR UNISEX BACKPACK-TOTE FEATURES DOUBLE USE, AS A BACKPACK AND ALSO A TOTE. IT'S SLEEK AND MINIMALIST DESIGN ON THE EXTERIOR MAKES IT BOTH STYLISH AND PRACTICAL - FEATURING AN INTERIOR LAPTOP SLEEVE POCKET.
WAYS TO WEAR:
Wear as backpack, top-carry, in hand.
FEATURES:
-FABRIC LINED INTERIOR WITH 2 INTERIOR POCKETS [1 LARGE ENOUGH TO FIT YOUR LAPTOP]
-TWIN TOP-CARRY HANDLES [AS A TOTE]
-ADJUSTABLE SHOULDER STRAPS
-BACK EXTERIOR POCKET WITH CUSTOM-DESIGNED "BOLT" SNAP CLOSURE
-SIGNATURE GOLD STAMPED AMPERSAND LOGO AT FRONT
-ALL MATTE BLACK METAL INDUSTRIAL ZIPPER + HARDWARE
-INCLUDES DUSTBAG
LEATHER / MATERIALS:
SOFT TO THE TOUCH, OUR CUSTOM MADE NEW PAINTED PYTHON TEXTURED LEATHER IS 100% GENUINE LEATHER (NOT REAL PYTHON!) WITH FINISHED NATURAL SUEDE INTERIOR.  WE HAVE CUSTOM DESIGNED THIS LEATHER TO BE LIGHTWEIGHT YET STURDY TO RETAIN IT'S SHAPE TO CARRY YOUR ALL.

DIMENSIONS:
-SIZE: 15" W X 16" H X 5" D (APPROX.)